Husky honors Türk+Hillinger as "Supplier of the year 2018"
Husky Injection Molding Systems is one of the leading suppliers of injection molding machines and services for the injection molding industry. With one of the widest product ranges in the industry, Husky's machinery, equipment and apparatuses are used to manufacture a large variety of plastic products: beverage bottles and closures, food containers, medical components and consumer electronics components.
Husky has more than 40 service and sales offices, and employs more than 4,000 people worldwide. The main production sites are located in Canada, the United States, Luxembourg, Austria and China.
"We are proud to be the only supplier to receive this award from this established and globally successful company for our unmatched performance. "We see it as a result of our joint success of permanent product optimization in a very open and cooperative relationship", said T+H Sales Director Christoph Fodor, who received the award in October 2019 from Sascha Gerhards, Commodity Manager, Hot Runner Operations.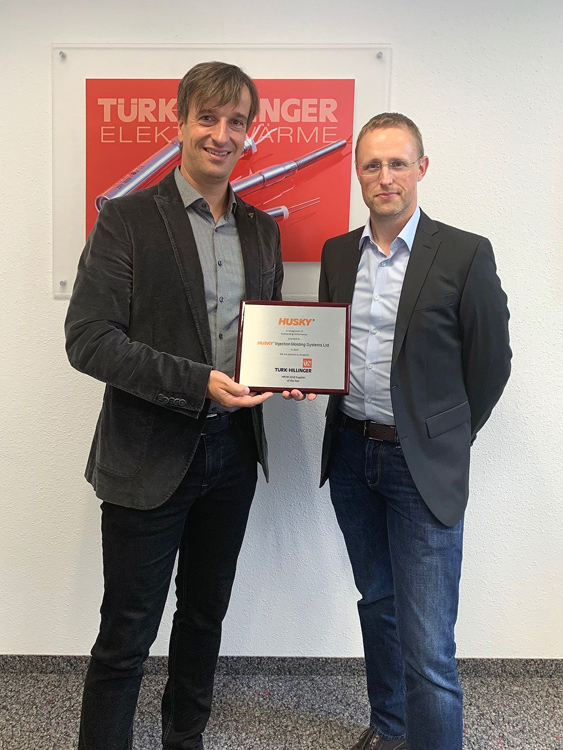 Türk+Hillinger presents the world's smallest heating cartridge for standard voltages
Türk+Hillinger, the world's leading supplier of compacted electric heating elements will be exhibiting and presenting another technological breakthrough in the heating element industry at the World Plastics Industry exhibition in October, at the K Show in Düsseldorf. With numerous innovations, the German company has achieved worldwide growth in recent years in a difficult market environment. Among the growth drivers are the high-performance cartridge heaters of the Type HLP series, which have been established in the marketplace for many years. Thanks to their special design, these heating elements allow an extremely high surface load and thus accommodates high performance in the smallest of spaces. The available lengths and diameters allow a variety of applications for a wide assortment of applications in many industries.
The heating elements are manufactured according to customer specifications. For numerous diameters and lengths, there is also an extensive stock program on hand, which ensures short-term delivery.
The specialists from the German company based in Tuttlingen have reached another technological milestone with further miniaturization of their proven high-performance heating cartridges. "With the reduction of the diameter to 2.0 mm we surpassed the absolute threshold range. The development was challenging and our testing was extensive, so we are proud to offer these micro heaters to our demanding customers", said Andreas Schlipf, Technical Director/ CTO of the company.
The compact heating elements are available in lengths of 10 - 150 mm with a maximum surface load of up to 70 W / cm² and a maximum sheath temperature of up to 750° C. The miniature cartridge heaters are made with insulated PTFE strands. A special feature is that these miniature heating cartridges are available for both low-voltage and standard voltage applications up to 250 V.
The small high-performance cartridge heaters offer many new possibilities, especially in demanding applications in medical technology, the automotive industry, laboratory and analysis technology, semiconductor industry and packaging machines. Another field of application for these micro heating elements is the heating of miniaturized plastic injection nozzles in hot runner technology. They can also be used in the cosmetic and consumer industry, as these miniaturized elements can heat complex systems to very precise temperatures.
Türk+Hillinger presents these and other new innovations at this year's plastics exhibition in Dusseldorf in Hall 10 Booth J44.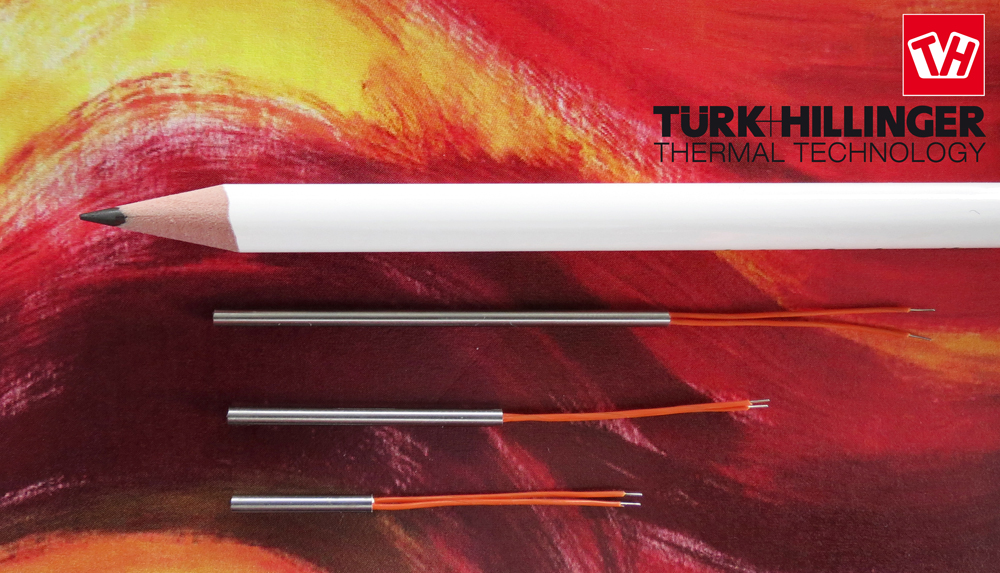 Türk+Hillinger consistently continues to pursue its international expansion. Since the middle of the year, Türk+Hillinger founded Turk+Hillinger China Co., Ltd., an additional subsidiary in Nanjing.
"The demands of our customers for a local presence, as well as the opportunities for expanding the Asian Markets, have prompted us to take this step. T+H Nanjing will be a sales location that meets the needs and desires of our existing customers for logistical optimization", says T+H CEO, Michael Mann.
"China is a growing market that we have thus far neglected. With a local presence, we will continue to accelerate our rapid growth. We are prime for the Chinese Market through highly rational and automated processes at our German location," continues Michael Mann. "The products are still produced in Germany. German quality and expansion of local jobs remain our corporate maxim.Turk+Hillinger China will be regularly present at upcoming local trade shows. Lu Xin manages the company in Nanjing.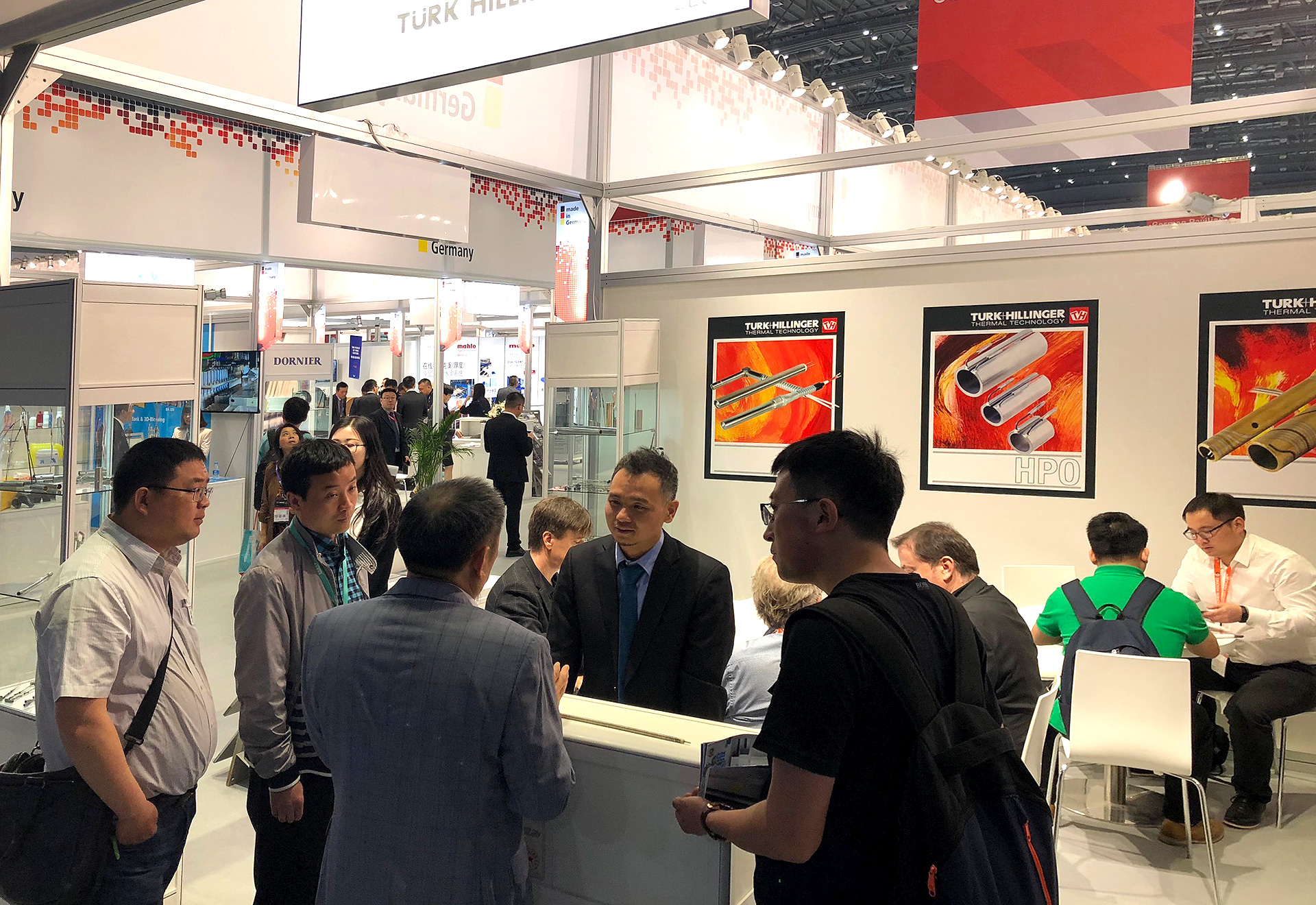 T+H China at Chinaplas 2018 in Shanghai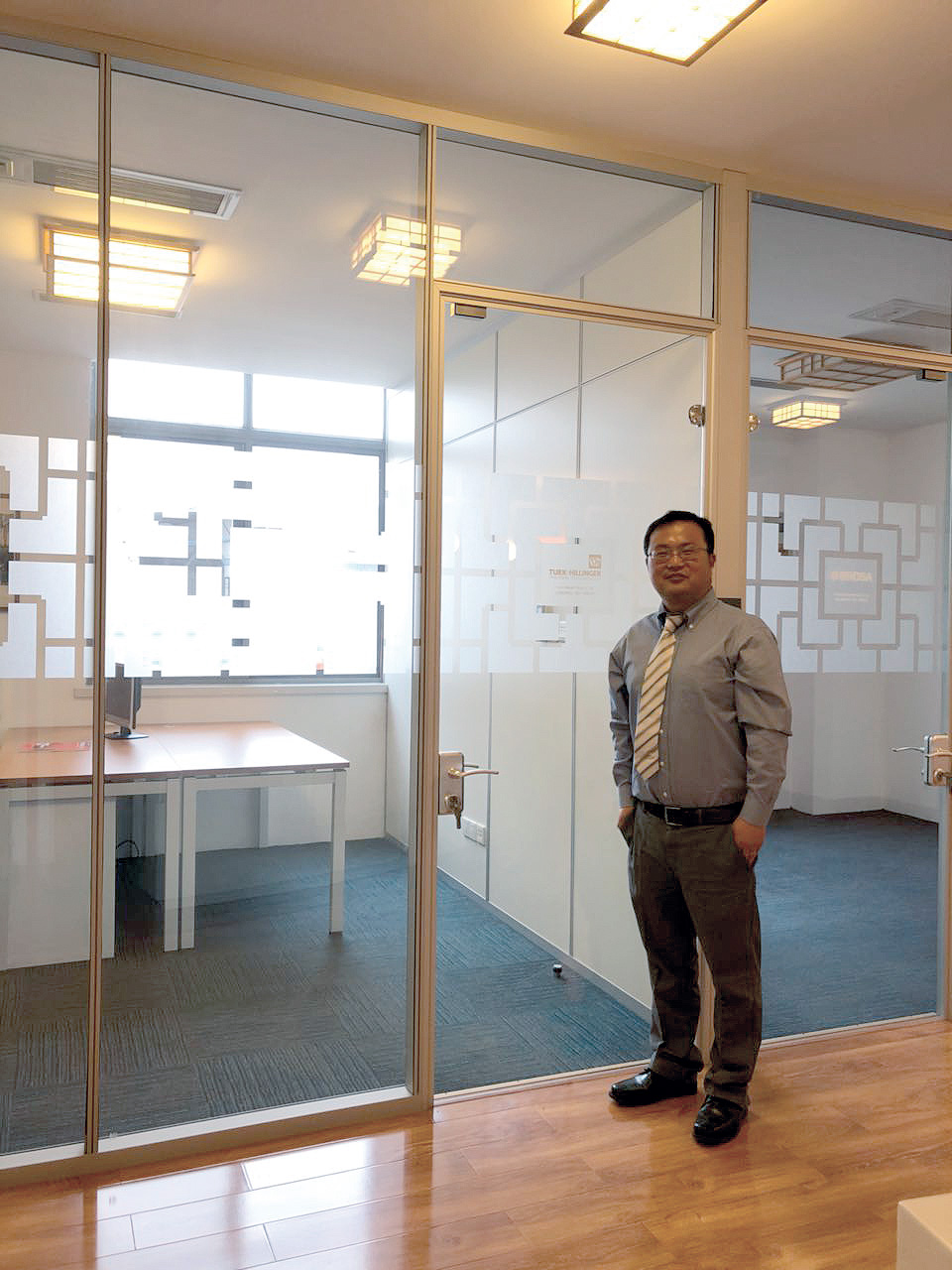 Lu Xin your T+H representative in China
Türk+Hillinger is fully invested in its future and continues its rapid growth
The Türk+Hillinger Group, headquartered in Swabian Tuttlingen and its business subsidiaries in Saxony, Hungary and the USA, is a successful medium-sized company. With over 850 employees today, the company produces and supplies electrical heating elements, load and braking resistors, as well as thermocouples.
"In 2017, we will again see double-digit growth for the fifth year in a row. We are very proud of our corporate development", says Managing Director Michael Mann. Mr. Mann, the son-in-law and the second generation of the founding family, Hillinger, now alone successfully leads the company. He emphasizes, that fortunately this dynamic 50 year old company, has not had to deal with disputes or disagreements with management or with shareholders. The company structure, has rigorously been trimmed to be highly effective and is the epitome of "lean" and cost-oriented, as a result of the graduate businessman. When Mr. Mann joined the company 20 years ago, it had well under 300 employees and was technologically stagnant . The number of administrative employees has only slightly increased since that time.
"Over the last few years, we have reinvested a good deal of money and as a result of right strategic decisions, have reoriented the company and systematically developed it into a global market leader." To further expand its leading position, over the past two years more than 12 Million Euros have been invested in the expansion and optimization of state-of-the-art machinery. "With Türk+Hillinger engineered custom-made machines that are not available in the market place, the manufacturing and testing processes are further optimized. In the last 10 years alone, investments of around 40 Million Euros have been made." As a family-owned business, we think and act in the long term and are a strong and reliable partner for our customers for the long run", which is the corporate mission of the Hillinger Family.
"Years ago, we were too focused on the home appliance sector and were constantly under enormous cost pressure." For T+H, the idea of mass production, line production and cost pressure was a daily business." The home appliance market has virtually collapsed over the last few years for us," says the graduate businessman. "In the industrial sector, our competitors forged ahead, while we missed many new devolpment opportunities." By realigning and consistently transforming its strategies, the company has again advanced to the top as a world class supplier of heating elements in the industrial sector.
Today, T+H ranks as absolute number one in Germany and is a world leader in the plastics industry, supplying heating elements and thermocouples." In the automotive sector, the company is the world-market leader in highly compressed heater cartridges that operate in map-controlled thermostats. T+H is also a leader within components for heated catalytic converters, such as cartridge heaters for Adblue, respectively, for reducing emissions and particulate matter. T+H thermal technology is also evident in fuel preheating, supplementary heating or targeted heating of individual components in cars or buses, in addition to instantaneous water heaters for electric cars and high end heaters for fuel cell technology.
The synergy effects of the broad T+H product range, the highly automated production processes and the innovative strength and speed have virtually overwhelmed the existing competition. With over 500 patent applications today, the company enhances its position as an experienced development and technology consultant within the electric heating industry.
"Our market share and our growth are far from over. We continue to grow and remain independent." Together with today's 90 year old company founder, Erich Hillinger, the Managing Director is convinced and looks forward to the next generation, who is also interested in the company's activities. The continuation of the company is in family hands and remains secure.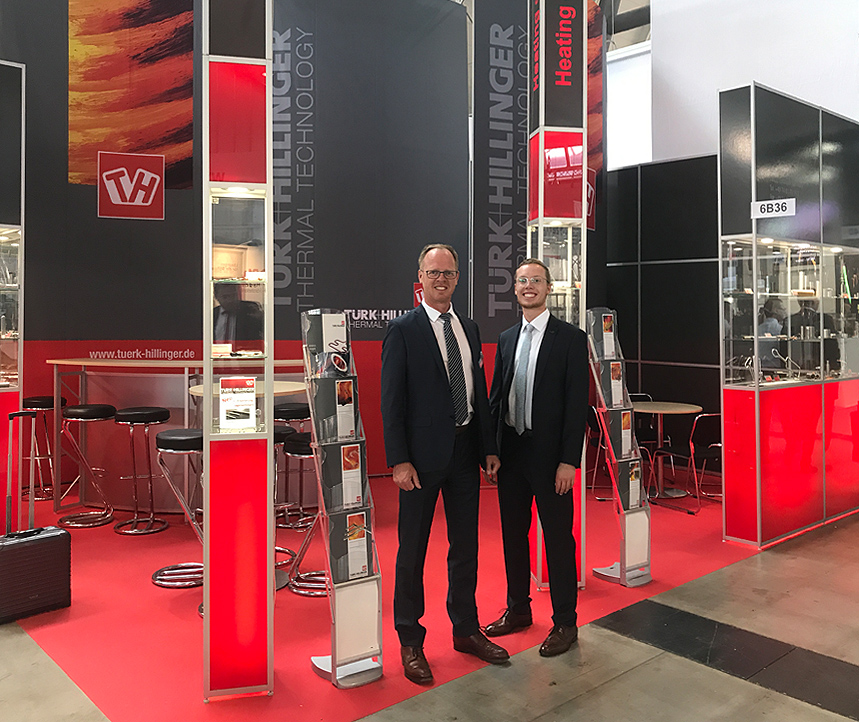 Managing Director Michael Mann with his son, Hendrik, at Fakuma 2017
PACK EXPO 2017– A HUGE SUCCESS FOR TURK+HILLINGER USA, INC.
T+H exhibited at PACK EXPO 2017, Las Vegas, Nevada from September 25 – 27, 2017. This first class event hosted over 2,000 exhibitors and a record-breaking 30,000 attendees, many of whom were high-level, decision-making executives.
T+H received enthusiastic interest in our Seal Bar High-Performance Cartridge Heaters Type HLP, as well as the Tubular Heaters Type RHK on display. Attendees were impressed with the high quality and our extensive product line. We are currently working with new and current customers to meet their heating and packaging needs.
PACK EXPO, sponsored by PMMI, is one of the largest and most comprehensive processing and packaging trade shows. PMMI, The Association for Packaging and Processing Technologies, represents more than 800 North American manufacturers and suppliers of equipment, components and materials, servicing the packaging and processing industry.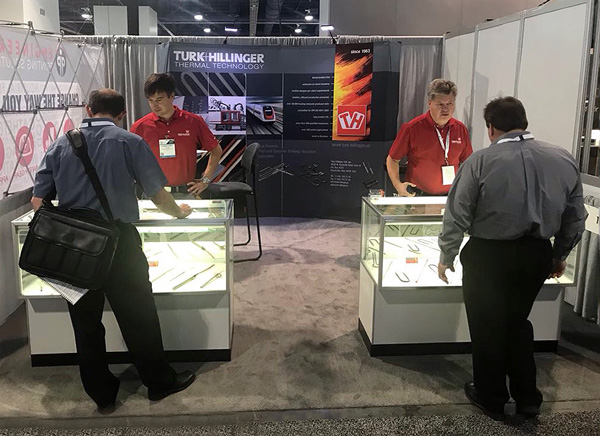 Thermal technology company Türk+Hillinger is a development- and system partner for the automotive Industry
Leading manufacturer of heating elements first time on Chinaplas - Türk+Hillinger presents its product range in Guangzhou 2017
Türk+Hillinger one of the world´s leading manufacturer of electrical heating elements based in a high tech area in southern Germany, will be this year the first time in Guangzhou to present its wide range of products for the plastics industry.
"Türk+Hillinger market and technology leader for heaters and temperature sensors in the plastic industry is proud to serve our products to a lot of renowned international customers. Be innovative, act global and produce local in a rational and cost effective way, with quality - made in Germany - is the aim our efforts to be international competitive", so Michael Mann the CEO of T+H group.
The company will be in Guangzhou and shows an extract of its wide production program:
HPQ are nozzle heaters, which consists of a low mass tubular heater type RP. Typical for the HPQ, which is mainly uses in hotrunner systems, is the brass part on which a low mass tubular heater is coiled. HPQ heaters are available in different lengths and diameters with a small wall-thickness and a highly precise power distribution. HPQ heaters are deliverable with or without fixed or changeable thermocouple for an optimal control and regulation performance.
RP is a bendable high performance tubular cartridge heater which offers a high watt density with low mass. The heaters are used where space is at a premium. They are available in different diameters and sections up from 1,2 mm with or without integrated thermocouple.
Temperature Sensors are available in different executions and designs. Straight, in ring shape, as special manifold sensor or designed as high temperature execution. The sensors are grounded or ungrounded. Characteristic for the T+H temperature sensors are the quick response time, a unique moisture proof design and a robust construction. The sensors also have a miniaturized connection sleeve and a high temperature resistant connection.
HLP – high performance cartridge heaters - are metal-sheathed heaters which have an extremely high surface loading and thus high power in a small area. They are available in numberless executions and are used in many applications in the plastic industry, i.e. nozzle heaters for extrusions dies, hot runner systems or hot stamping presses, welding bars or in closure machinery. The heaters are made upon customer request and T+H also offers a comfortable and growing stock type list.
FLEX - the latest product in the range of T+H -is a 3-dimensional flexible bendable tubular heater which is mainly used from many customers in their hotrunner systems. The FLEX is a robust heater with excellent thermal properties, which can freely be bent by hand. It is available in numerous diameters and cross sections. For the users, the FLEX provides great advantages in warehousing. If necessary, the FLEX can be bent easy and quickly into the required form. Due to a high automatization in the production the FLEX is on a lower price level than other flexible tubular heaters on the market.
The German company Türk+Hillinger stands for innovation, high quality and precision with competitive prices. The products are made customer specific and also T+H has a growing program of stock type heaters. Visit T+H at their booth at the Chinaplas in Guangzhou at hall 5.1 and booth No J 15.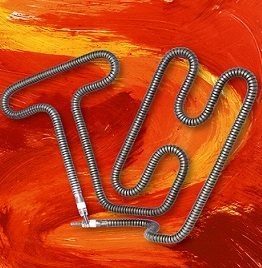 Türk+Hillinger, the world's leading supplier of electrical heating elements for industrial applications, has once again expanded its extensive inventory program.
Newly added to this program are our small heater cartridges with the diameters of 3.1, 4 and 5 mm. All are outfitted with swaged-in, internally connected flexible teflon-insulated leads with a connection length of 1000 mm.
The popular and very successful High-Performance Cartridge Heaters HLP are widely used in the market place. They have an extremely high surface load which is due to their special design and are therefore capable of accommodating more power in a very small space. The available lengths and diameters enables far more usage in a wide variety of applications.
Further information on the Türk+Hillinger program can be obtained directly from the company.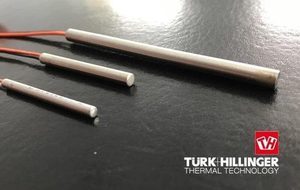 New flexible tubular heater Flex Türk+Hillinger is Expanding its Production Program 
For many years, so-called flexible tubular heaters have been available in the market. These heaters are mainly used in the plastic industry in hotrunner systems. But customers from other industries do also like to use these special heating elements. Türk+Hillinger GmbH – the world leader in industrial electric heating elements – has now expanded to include these highly demanded flexible tubular heaters in its rapid growing production program. Under the Flex product name, we offer a series of diameters (6,5 mm, 8 mm, 8,5 mm) and cross-sections (6,0 mm, 8,0 mm).  An extensive range of stock is available. These Flex are three-dimensional, bendable tubular heaters with excellent thermal properties that can freely be bent by hand.  The use of bending or special tools is not required.  A simple installation is possible. These flexible tubular heaters can be supplied with the usual connection styles. The Flex has many advantages in warehouse storage for the user, in that it can quickly and easily be bent to any required form. They are produced in Germany under the most efficient and economical production conditions. For further information about the product, you can contact the company or go to the
products page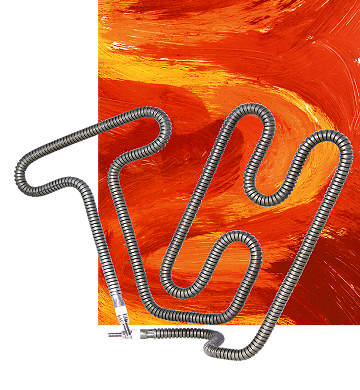 Hannover Trade Show 2016 is the world's foremost industrial trade fair. It takes place every spring in Hannover (Niedersachsen) in the Hannover Exhibition Center, the largest exhibition center in the world. Türk+Hillinger is the largest heating element manufacturer exhibiting in Hannover this year and as always, T+H will display its established and extensive product portfolio. Included will be new innovations for electric heating elements, temperature sensors and power resistors for various industrial applications. The Hannover Trade Show consists of a variety of international trade shows that represents the entire industrial value chain spectrum. The core topics addressed at this year's show include:
Industrial Automation and IT
Energy and Environmental Technologies
Industrial Supply
Production Technologies and Services
Research and Development
This year, the United States is partnering with Hannover Trade Show 2016. Over 1000 U.S. companies will be represented. "Integrated Industry – Discover Solutions" is the theme for this year's trade show, which will take place from April 25th to April 29th. The focus will be on networking and digitization of the industry. US President Barack Obama is expected at the opening festivities on April 24th.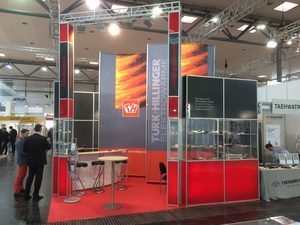 For many years, Türk+Hillinger has been able to supply its market with proven dyanmic braking resistors.  We are now able to immediately provide to our customers, a new ALW design series with UL approval. The popular ALW series that is available with UL approval include: ALW40, ALW60, ALW70, ALW80x15, ALW80x20, ALW90 and ALW130. The T+H load resistors, with the new design, incorporate the special characteristics of higher capactiy, pulse strength and more durability, but also provides a one to one interchangeability with the old ALW series. Underwriters Laboratories (UL) is an independent organization that examines the products in terms of their security and certifies products for the North American market.  UL has developed standards and procedures to test products, components, materials and systems to see, if they meet specific requirements.  Once products comply with the UL prescribed standards, they can then display the-UL Mark. UL has developed more than 1,300 safety standards, many of which are American National Standards (ANSI).  A typical standard for electrical goods includes not only the requirements for electrical safety, but also a wide range in terms of flammability and mechanical hazards. The T+H brake and load resistors are used in all applications where it is important to lower power peaks in electromechanical systems or where mechanical energy via the electromechanical coupling is converted into heat, i.e. in frequency converters or in the deceleration of electric drives. During braking of electronically controlled drives, power peaks occur in the conversion of kinetic energy, which can destroy the electronic components.  With a load resistor type ALW these power peaks are capped, converted into heat and thus protect the electronic components against destruction.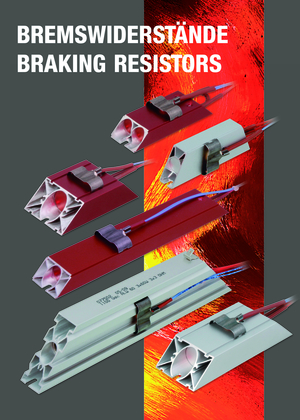 T+H USA Exhibits At PACK EXPO 2015

The 20th Anniversary Pack Expo, a show for the plastics and packaging industry, was held in Las Vegas, Nevada from September 28 through September 30, 2015.  Prospective business clients from all over the world attended this show.  Attendance at the show was again a record breaker and the show was an over-all success. Turk+Hillinger experienced brisk and continuous activity at its booth with the majority of interest targeting our HLP High-Performance Cartridge Heaters products for the packaging industry.  Customers were extremely impressed with the innovative and high-quality heating elements displayed and the over-all product line of Turk+Hillinger.  Many new business connections were made, inquiries generated and orders have been placed as a result of the energetic activity at this show and at our booth and we expect more to follow.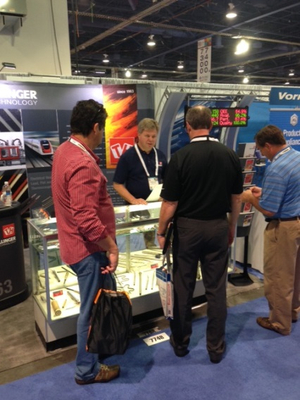 New Product Release: Flanged Heating Elements with Long Service Life and High Performance. In order to enhance the product portfolio of T+H heating elements at Limbach-Oberfrohna, a new production line for Flanged Heaters was put into operation. T+H Flanged Heaters are pressure tested up to 40 bar, and are characterized by long-term stability. Remote connection housings, available in different materials and up to IP67 protection class, simplify the assembly process and increase the reliability at temperatures below the dew point, which can occur, for example, when heating CO2 or in outdoor areas. Stable support tubes and flow plates are used to ensure optimal flow in harsh conditions. Flanged heaters are often the first choice for use in harsh environments, when high performance and / or low surface loads are required. Custom designs are implemented in close consultation with our customers. Feel free to contact us about your Flanged Heater needs! T+H Elektrowärme GmbH Limbach-Oberfrohna
Mr. Jörg Voigt: +49 (3722) 7189 - 25